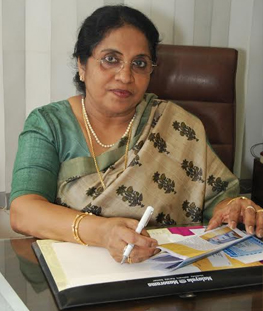 Dr. Mrs. Elizabeth Verghese is an illustrious Founder Chancellor of Hindustan Institute of Technology & Science and the Founder Chairperson of the prestigious Hindustan Group of Institution, Chennai.
She is a Civil Engineering Graduate from Govt. Engineering College, Trivandrum, Kerala and a Post Graduate in Engineering from Birla Institute of Technology (BITS), Pilani and obtained her Doctorate in Education from the Cosmopolitan University & Research Institute, United States of America.
She has served the Government of Tamil Nadu for 35 years in various capacities before retiring as the Joint Chief Engineer in the Highways Department. She was the first woman Engineer in the department and was involved in the various Research activities of the State Government. She has represented the department in various forums of Central & State Governments and other professional bodies and also served as the Member of the Norms Committee of Indian Road Congress, New Delhi.
Dr. Mrs. Elizabeth Verghese took on the mantle as the Chairperson of HGI after the demise of her husband late Dr. K.C.G. Verghese, who was an outstanding educationist, a dynamic leader and a visionary par excellence for whom no horizon was to large to gaze at.
Dr. Mrs. Verghese is a pioneer among woman Chancellors in the private sector education in India. Her emphasis is on excellence in imparting quality education in various institutions under the Group. She encourages everyone at HGI to facilitate creativity, innovative thinking by creating an exclusive learning ambience to fuel their growth as future technologists and scientists, and has won many awards, laurels and recognition.
Some of the Awards and accolades received by
Dr. Mrs. Verghese are:
"India Icon 2020 Award - the Iconic Person" presented by ICT Academy
Indo Australian Award for the Meritorious Service in the field of Education in 2014.
Perarignar Anna Award - for her excellent contribution in highways and rural works department - awarded by the Government of Tamil Nadu in the year 1997. She received this award from the Chief Minister of Tamil Nadu, Dr. M.K. Karunanidhi.
Lifetime Achievement Award for Education Excellence - by Indian Economic Development & Research Association (IEDRA).
Women Super Achiever Award - 2013 - by Asian Leadership Forum, Dubai.
Eminent Engineering Personality Award - 2013 from Institution of Engineers, India.
Dr. Mrs. Elizabeth Verghese
Founder Chairperson

Dr. Anand Jacob Verghese is the Chairman of Hindustan Group of Institutions based in Chennai. He obtained his graduation in B.S. Engineering Management from the American International University, London in the year 1993. In the subsequent year he pursued his M.B.A. at Huron University, London. Recognizing his contribution to research & development he was conferred Honorary Doctorate by the world-renowned Dongguk University, Seoul, South Korea in 2011.
Dr. Anand Jacob Verghese is actively involved in the overall administration and development activities of the Hindustan Group of Institutions for over 24 years. Presently, the Hindustan Group comprises of:
Hindustan Institute of Engineering Technology (Polytechnic & Aviation Colleges)
Hindustan Institute of Technology & Science (Deemed University)
KCG College of Technology
Hindustan College of Arts & Science
Orient Flights Aviation Academy
Hindustan International Schools (CIE & CBSE)
Hindustan College, Mysuru.
Dr. Anand Jacob Verghese formally took over the reins of Hindustan Group of Institutions after the sudden demise of his father in 2006. Along with the guidance of his mother, he entered the management of the Group of Institutions. It was during his management that the Hindustan College of Engineering was granted University status by the Government of India in the year 2008. He has since steered the Hindustan Group and has expanded the educational Institutions to provide technical training & education not only to aspiring graduates in higher education but also by providing primary education by establishing three international schools in Chennai.
His main aim has been towards developing significant international alliances for academic and technical collaboration for the benefit of student community. With specific thrust towards enabling research and innovation he has been instrumental in forging several significant collaboration agreements with reputed research led educational institutions all over the world to provide global exposure and learning opportunities to students. With the motto of 'Transforming pedagogies and technology', his views reflect the need for every student to be updated with world trends as a window to success.
HONOURS & AWARDS

Received "Bharat Ratna Rajivgandhi Makkal Thalaivar Moopanar Award" from Mr.G.K.Vasan, Hon'ble Minister for Statistics & Programme Implementation, Govt. of India.
Received "Trailblazer" of Tamil Nadu Award from Times Media Group.
Received the "Edupreneur Award" from the Times Group for his Exemplary Commitment and impactful positive contribution to education in Tamil Nadu 2013.
Received the "Spice Award" for Best School for Overall development during the 3rd National Convention on education of Auuro Educational Services, from His Excellency The Governor of Tamilnadu Dr. K. Rosaiah along with the Hon'ble Consul General of Japan Mr. Seiji Baba in Feb 2016.
Received the "Aviation Edupreneur" Award, during the National Science Day Celebration at Russian Centre of Culture & Science.
"IET Ratna Award", the highest award from IET, Chennai local network, for his commendable contributions in the field of Engineering Education.
Received the Chennai International Youth Fest Excellence Award from Youth Development Consortium for striving continuously to build the youth empowerment.
Received the MGR Ratna Award for eminent people who have contributed to the vision of Dr. MG Ramachandran
"YOUNG ICON OF Y'S DOM Award" from Y's Men International India Area Team for his Stupendous Leadership and Bounteous contribution to Y's dom
Dr. Anand Jacob Verghese
Chairman